Shinano Primitive Sense Art Festival 2021
The Fleeting Moment of Water
Period
Fri, August 27, 2021 – Sun, August 29
Venue
Lake Kizaki, Omachi City, Nagano Prefecture. Japan
Organizer
NPO Primitive Sense Company
Co-sponsored
Nishimaru Seiya Memorial Museum
Art director
Nobuyuki Sugihara
Program director
Taeko Mori
Coordinator
Ayaka Nakamura, Masao Kusafuka
Grant


Toshiaki Ogasawara Memorial Foundation – Second new covid-19 special grant (contemporary art field)
The Asahi Shimbun Foundation (2020)
The Fleeting Moment of Water
While many art festivals and traditional festivals have been canceled or postponed due to the influence of the covid-19, this year's primitive sense art festival has the theme of "The Fleeting Moment of Water." It is an attempt to see what kind of festival we need under the current situation.
Primitive Sense
When people straightly face to the nature, primitive sense will return to our feeling. I think fine art is born at that moment. "Nature" is not only at outside of us, contains the life of ourselves, inherited from the origin of life. The true richness is that there is beauty normally in the living that has been inherited from the Jomon period. We will create a local "culture" by staying on the shore of Lake Kizaki, which is surrounded by the majestic nature of the Japanese Northern Alps, and creating expressions that can only be created by meeting local people who live there. It is to create a festival as a cultural boundary that connects the outside and the locals, connects art and tradition, and cities and regions.
Artists
Shinji Asai
・ ano ai company ・
Sakiko Ando
Gaishi Ishizaka
Chitoku Ishihana
Unryu
Excellan High School Art Department
Tamihiro Ono
Kaoruko
Mikio Kawasaki
Masao Kusafuka
Masayuki Kuroda
Kesennuma Haruki
Genryu Miasa Drum
Kobayashi Tei
Mina Sasaki
Hiromu Sato
Sandii x Laea Marilyn
Experimental body Mudai
White Snake Tribe
Nobuyuki Sugihara
Ayaka Suzuki
Yuriko Tajima
Jung HA_EUNG [Korea]
Tsumura Sahi
Ayaka Toyoshima
Tomoo Nagai
Harumi Nakajima
Satoshi Nakajo
Ayaka Nakamura
Masashi Nishina
Noe Nihei
Jhonnam Ha [Korea]
Syunichiro Hisada
Rinko Hime
Kanako Hiruta
Kazuya Matsuo
Taeko Mori
Gozo Yoshimasu
Online Artists

Hiroshi Atobe
Anabela Costa [Portugal / France]
Isabel Pérez del Pulgar [Spain]
Risa Okita
yukaotani
Karola Pezarro  [Netherlands]
Claude Ciccolella [France]
Hiroya Sakurai
Jerome Chia-Horng Lin [Taiwan]
Shu-Jung CHAO [Taiwan]
Jean-Michel Rolland [France]
Celine Avrahami [Israil] x Cindy Sofer [USA]
Ayaka Toyoshima
Noma Zima Motenten
Yu He Lin [Taiwan] / Mauro Sacchi [Italy]
Johannes Christopher Gerard[Germany]
Open Call 2021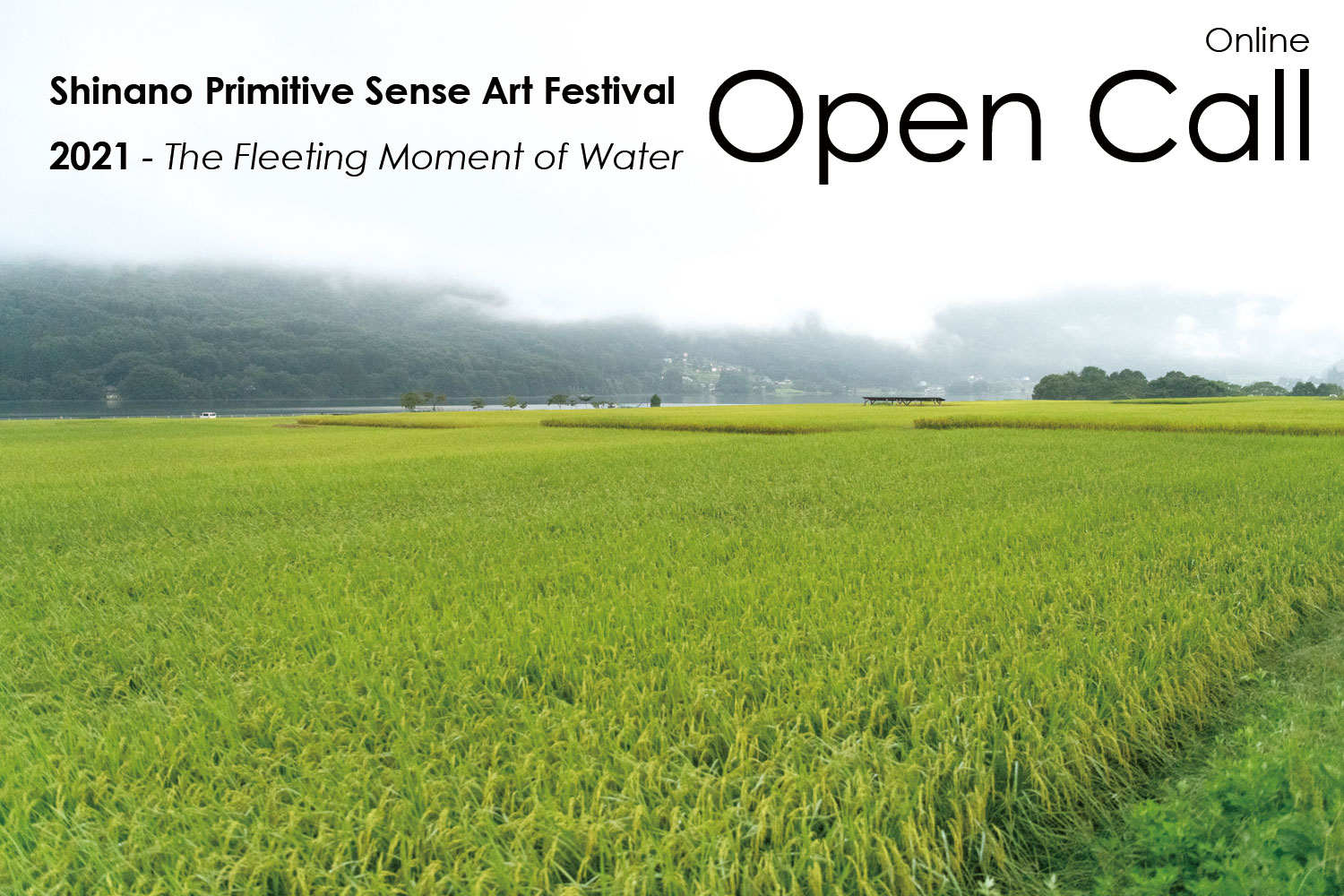 The artist has a primitive sense and awakens it.
Please send a video of the work with the theme of the Fleeting Moment of Water.
We will do the ritual against the covid-19 form August 27th to 29th, 2021 on the shores of Lake Kizaki.
Please join us online.
Please send us your name and your artwork link with YOUTUBE or Vimeo by e-mail.
We will stream it online at the site and we will show on our website.
There is no budget for this project.
Deadline
August 22th, 2021
Contact
NPO Primitive Sense Company
(NISHIMARU SHINYA Memorial hall)10901 TAIRA OMACHI, NAGANO 398-0001, JAPAN
Tel.+81-261-22-1436